In the first moments of a wildland fire, a fast direct attack with water is a very interesting resource.
To carry out with this maneuver the most commond vehicle used have been the Pickup vehicles. This is the reason why the skid units have been adapted to these vehicles, trying to optimize their load capacity and their attack capacity.
Vallfirest, has been working on the design of a new generation of high pressure skid units. Compat design, high quality components, sturdy are some of the main characteristics when we talk about the vallfirest skid units. A product that allow to reach inaccessible places during a Wildland fire, thanks to his size and thanks to the agility of the pickup vehicles.
The skid units have also been designed for trailers and other vehicles equipeds with a loading system. The Vallfirest skid units are fully customizable according to the needs of every vehicle.
Although all kits are customizable, all kits have common components. The structure of a skid unit, consists of:
ENGINE
There are different engine-pump setups for the skid units. For every specific pump model is recommended to use an specific engine that provides the necessary power.
We suggest to install one of this engine options:
We can also install other engine and pumps option. It is important to adapt the power of the engine to the pump that we want to install, because the engine will directly influence the supplied pressure.
PUMP
Depending of the flow rate and the pressure required, we offer three different pump types. Membrane pumps, centrifugal pump and piston pump.
In the graphic below, we show the basic specifications of each pump:
Membrane Pump:
Semi-hydraulic four-diaphragm pump, for use on sprayers for high pressure. Parts in contact with pumped liquids in anodized aluminium, and AISI 303/304. Diaphragms in BlueFlexTM. Seals in NBR. Die-cast casing with oil-immersed mechanism and clear plastic tank for visual level checking. Fitted with air-hydraulic damper for smoother operation and less hammer effect in the delivery circuit. Remote level monitoring sensor on request. Remote oil tank installation kit available on request. Oil drainage stopper. Pistons with ring for a more efficient "oil cushion" system to protect the diaphragm. New-design diaphragm cut-out system to prevent contact tearing even in heavy-duty operating conditions. Spherical sector profile valves for lower flow resistance and improved volumetric efficiency. Mass-produced safety valve and cardan protection. Metal fasteners with galvanised finish.
Centrifugal Pump:
Centrifugal pump made of anticorrosive and hardened aluminum. Turbines in bronze. Stainless axles on the engine crankshaft. Stainless screws. High quality mechanical seals.
Piston Pump:
The specifications of the kit with 18hp engine and high pressure piston pump provides: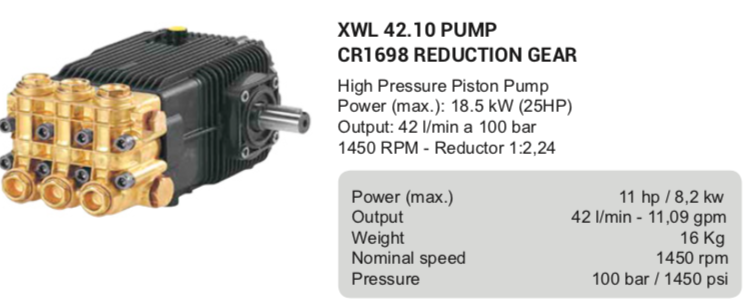 WINDER
All kits come equipped with their respective fast attack winder. The lengths and working pressures of the winders may vary depending on the skid unit. From 50 to 80 meters and from 40 bar to 100 bar of working pressure. The winders are mounted with connection to the water pump.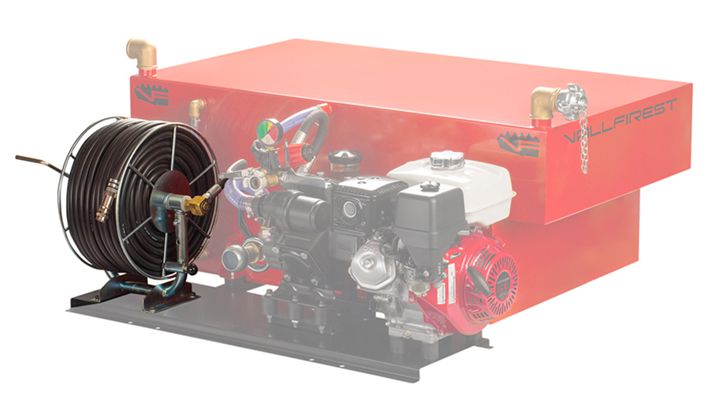 TANK 450L 600L
All our kits come equipped with a tank that can vary from 300 liters to 1000 liters capacity. All tanks are customizable and can be custom made to fit any pickup and / or trailer vehicle.
T-shaped to take advantage of the step between wheels and get a low center of mass. Manufactured in stainless steel INOX of 2 mm AISI-304 cold rolled, fire retardant and flame resistant. Painted in the oven, color to choose.
It has 2 internal breakwaters to avoid the water balancing during transport ensuring maximum stability and safety but allowing the center of gravity to be maintained efficiently and the maximum flow of water and air between the 3 compartments.
Includes indicator of the water level remaining in the water tank. The connection base of the tank to the motor pump is also made in cold rolled 2 mm AISI-304 INOX. The tank has a 3/4 "drain to empty the tank on the front with a stopper. The connection of the tank to the base is through 4 anchoring points with damping system or sidebrow to absorb load tensions and movements. T-pass wrench for tank and absorption.
There are two standard nozzles located in the horizontal top plane of a 1 and 1/2 "tank, one to charge the tank from a hydrant and another from a vent. There is also an entrance to load the tank by suction with sleeve.
Variable weight of 157 kg.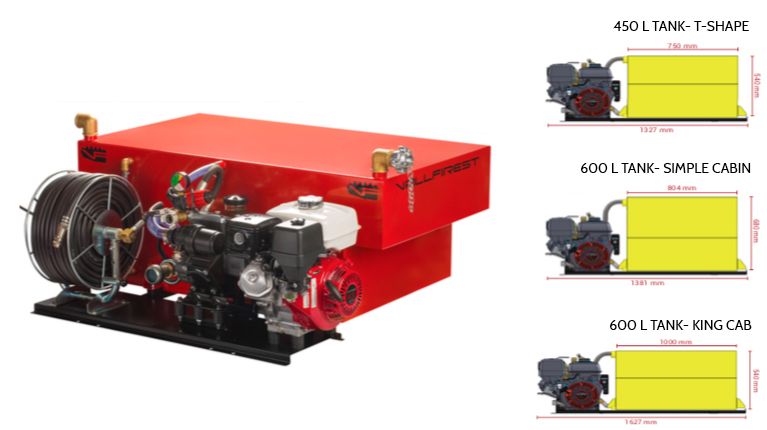 FOAM FORMER AGENT KIT (optional)
Optionally, we can install a foam former agent kit. The foam former agent kit are a compact and easy to use system for mixing foaming agent with manually control from the control desk.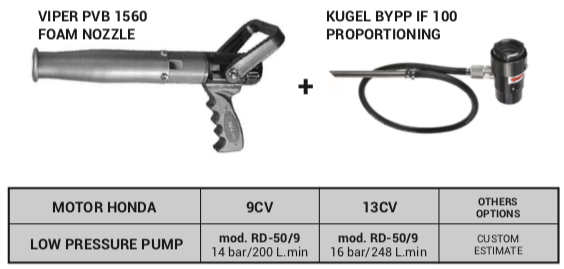 For more complete and detailed information of our kits, you can download the complete technical files of each product here:
Membrane pump skid: here
Piston pump skid: here
Centrifugal pump skid: here