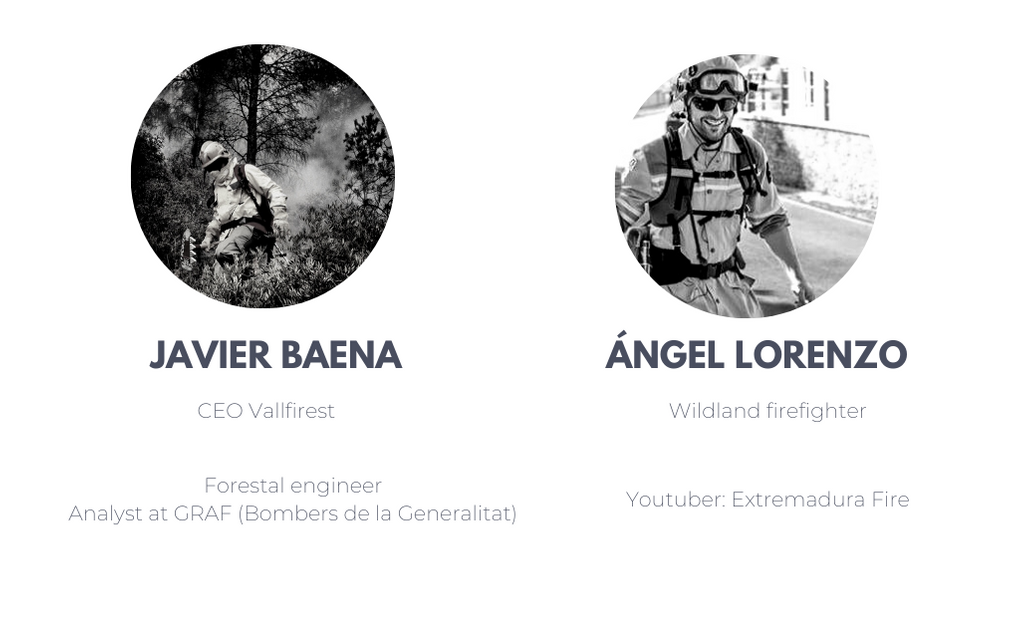 A.L: How did your journey into the world of wildland fires start?
J.B: I studied forest engineering. Then I expanded with the master degree in fire studies in Lérida.
A.L: You are also an analyst.
J.B: In the third year, I joined a small technical GRAF unit with Firefighters from the Generalitat. I had the opportunity to campaign in Catalonia and Portugal, courses in the United States and controlled burning in England. They taught me to read fires, the alphabet of fire. When you acquire that knowledge, wherever you are, you know how to interpret the course of fires. The language is always the same.
A.L: You've gone all the way.
J.B: That's what commitment gives you. Knowing well the sector for which your products serve, being in contact with former colleagues, understanding the needs.
A.L. What was your first product?
J.B: The 1 liter Drip Torch. Obviously from the first version of the torch to the current one, there are changes, in materials, in measures ... It evoluted, like all Vallfirest products.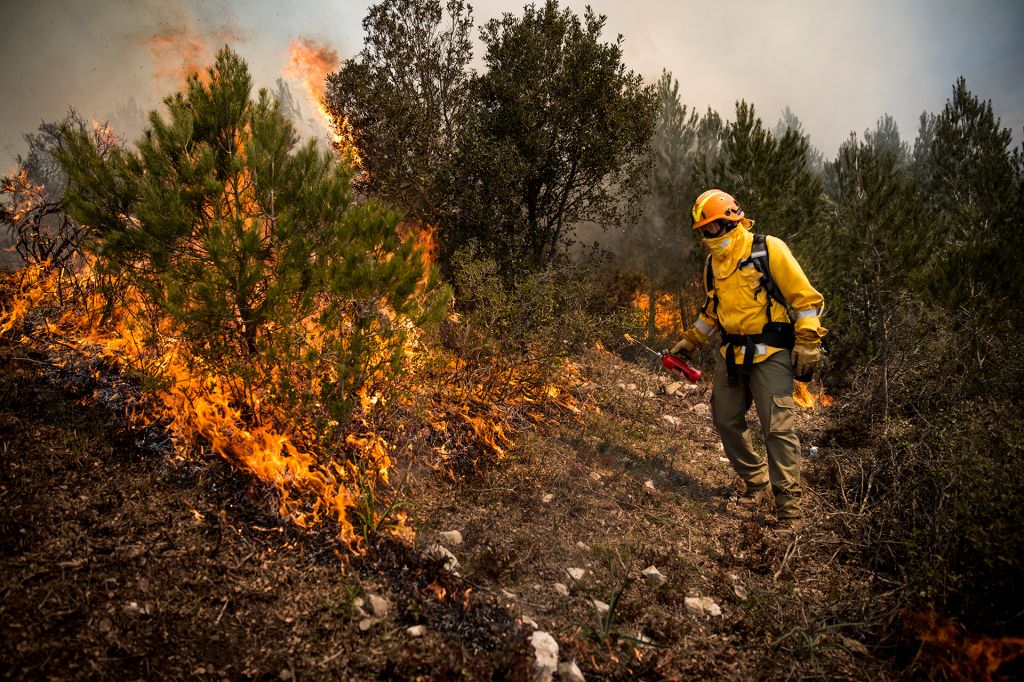 A.L: Did you recover used material to see how it has aged?
J.B: Yes. The other day we received some photos from Germany of a gorgui from the first edition. 10 years later it is still functional! In Spain, in Galicia they were the first to acquire gorguis. And I remember that I had to go through nine airborne bases defending the product. Now there are international competitions with the prescribed gorgui and it is already the most common. You don't have to explain it.
Today at the #blackforest , southwest #Germany
Working on some lines to burn off with the first model of gorgui. More than 10 years on it's back and still operational. #Gorgui, #buildtolast, Pictures by @AlexanderHeld4 pic.twitter.com/aPGup8zu4t

— vallfirest (@Vallfirest) April 19, 2020
Vallfirest is a young company. We compete with manufacturers and products that are 100 years old. A pulaski, a macleod… they are being used because it is what there was and nobody had asked Why do we use this? We constantly ask ourselves questions. Why do we use each tool? Can there be anything better? This is how our products are born.
A.L: I must admit that when I saw the gorgui for the first time it was difficult for me to do it. I found it very heavy. But when I understood the importance of the edges I saw their potential.
J.B: Gorgui's story is similar to that of the torch. I was in an airborne unit and had to choose a tool. It happened that one day I arrived with a Mcleod and I found an area with a lot of stone. Another day I chose a pulaski and I found a good organic soil… I came to the conclusion that I needed a multifunctional tool for all types of terrain and combustibles, a utensil with which to dig, cut, brush, dig, tear and rake.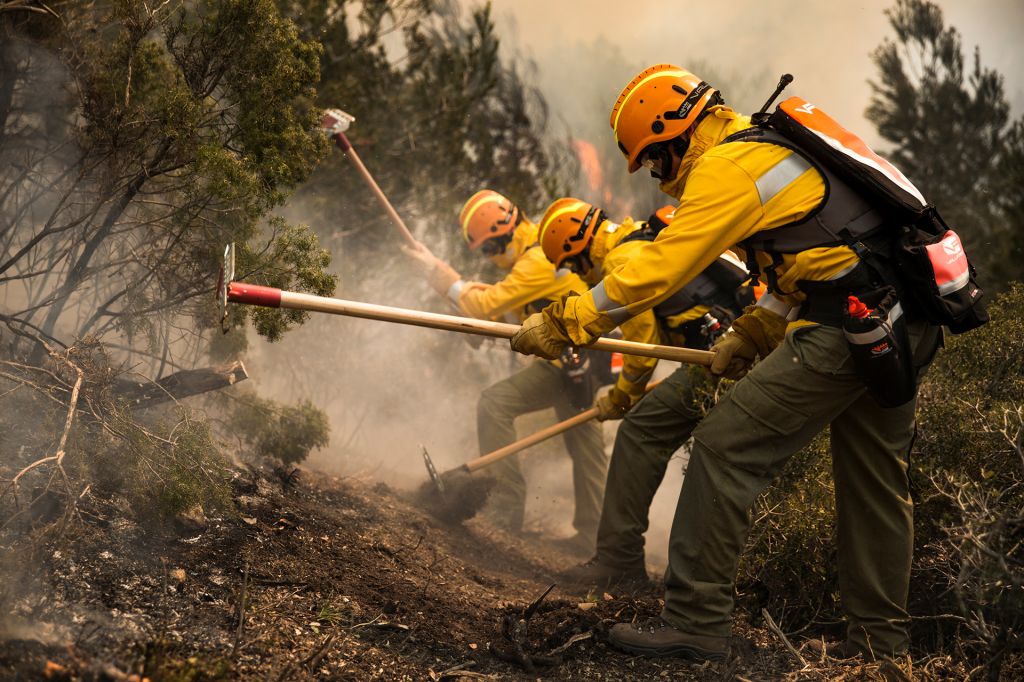 A.L: In which direction is the sector evolving?
J.B. In 3-5 years mechanization in extinction, in indirect or parallel attack maneuvers, will be a reality. In fact the northern countries, which are starting to have wildland fire problems, such as England, Norway, Sweden or Germany, already have this mentality. As a result of the climate change,those countries have seen the need to change their strategy and equip themselves, and when they see respiratory protection equipment and hand tools, they will be amazed! The Dronster, our forestry mulcher robot, is a product that today collides in some countries, but in a short time its use will be habitual. If you look at the fire perimeters that have been this year in Australia, in Chile, how can you work with thousands of kilometers of fire with a manual tool or with a water line?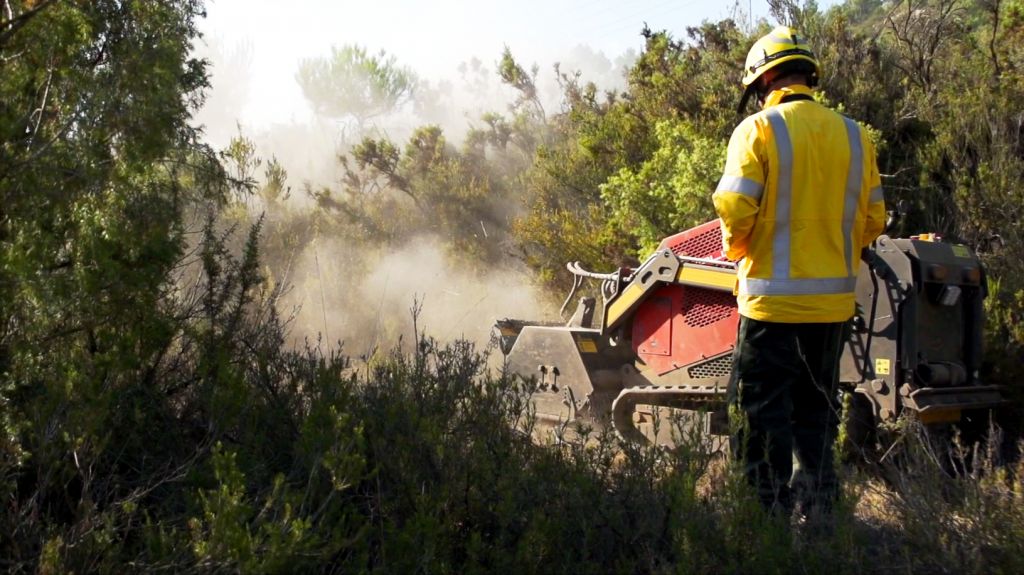 A.L: You can do it but you are a drop in the middle of the ocean. You are neither effective nor efficient.
J.B: Exact. The big leap is in analyzing the fires. Think about the strategy, study which maneuver can be the most efficient, safest and the least to tear. This is where Dronster, Heliskid and many other disruptive products that we have been developing over the years like Leo are born, which allow you to do things that were previously unimaginable.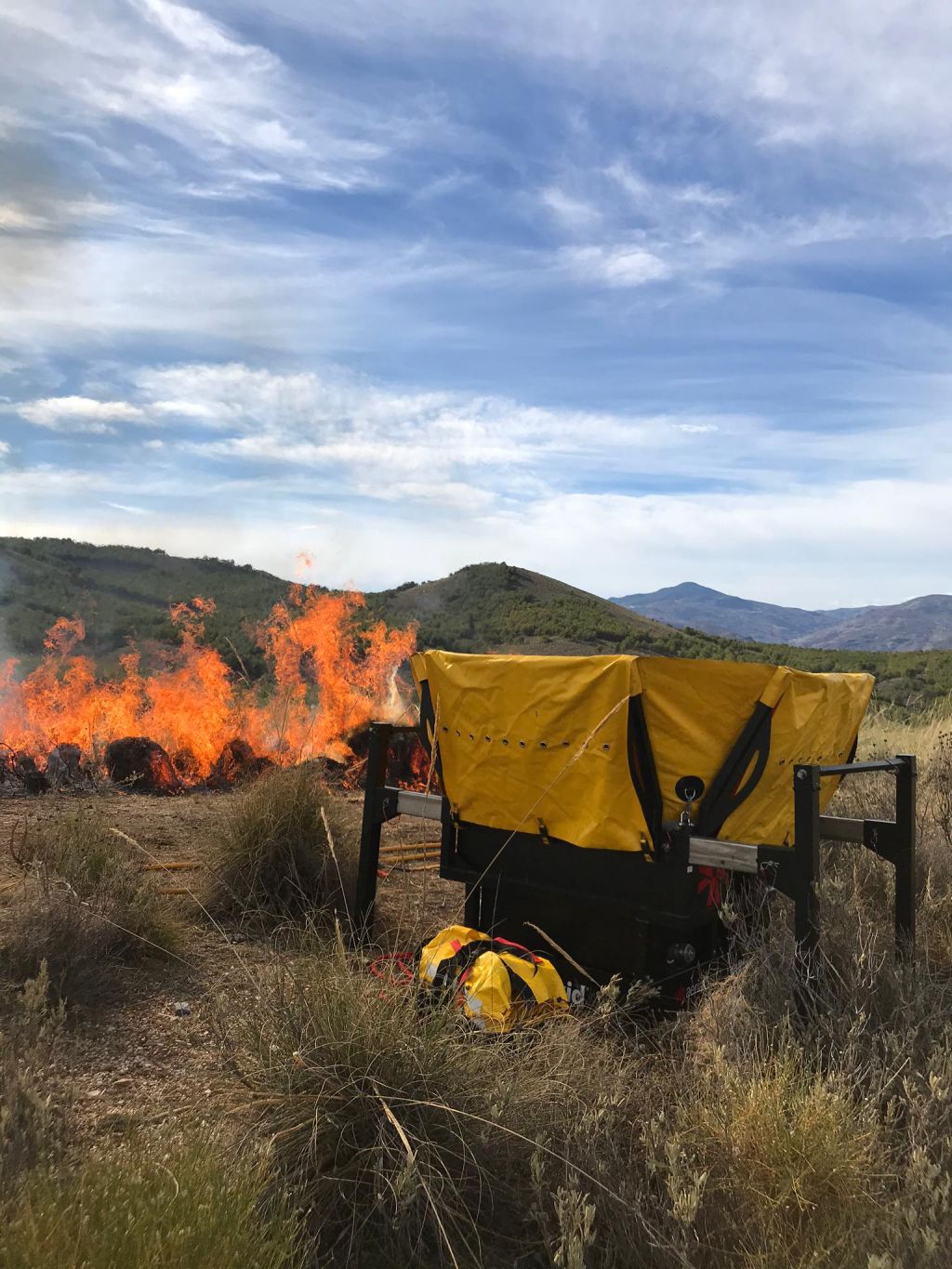 A.L: How have you perceived the change in fires in recent years?
J.B: What we have seen in the last three years has nothing to do with the fires of 10-15 years ago. They are faster, more intense fires and they are here to stay: either we change the way we work on them or they will overtake us. These fires: that they are capable of feeding on the atmosphere, of changing it; they cannot be fought with hoes or water bags. We might have a delay, but, eventually, the fires will force us to adapt to the change.
A.L: We are moving from total suppression to fire management. To grazing, to relativize the burned surface. So how do we fight the fires of the 21st century?
J.B: The direct attack will diminish in favor of foresight and strategic work. The maneuvers will change, and that will change the personal protective equipment. The PPE we have now is not protecting you from heat stroke, those of the future will.
A.L: Have you experienced first-hand difficult situations? What have they taught you?
J.B: We all know the fire that occurred in Horta de Sant Joan in 2009 and the human losses were derived. I had close friends there. I had worked on that crew a year earlier. That marks you. After what happened, I shut myself up to analyze the accident and think about what solutions we could propose to avoid new accidents. What products could be developed to change, improve and learn from it. The Pau Costa Foundation, products, international contacts came out of that accident. Just like the COVID-19 will change many things, that accident also did.
A.L: Is this when Xtreme Kit was born?
J.B: Yes. TheXtreme Kit is a professional self-protection equipment Made up of an ergonomic and lightweight forest backpack that incorporates a fire retardant shelter and a respiratory protection system for extreme situations of entrapment in wildland fire.
A.L: And how it has been welcomed?
J.B: It is delicate. I always put the simile: do you drive your car faster because you know you have airbags and anti-roll bars and abs? No. Are you going to risk your life more because you are wearing an xtreme shelter fire blanket and chemical oxygen equipment? No. Are you sure that you will not have a car accident if you drive at 50 km / h, respecting the law while having abs, airbags and anti-roll bars? No. Accidents happen.Just because you don't wear protective gear for extreme situations and don't risk, doesn't mean you can't find yourself in a trapped situation. And unfortunately, with the generation of fires that we are having, more and more risk situations will occur. The device that has suffered casualties and that has had accidents, some are betting on it.Others are more reluctant. Selling blankets and emergency respirators costs, because it means having to face a difficult reality, but it is what it is.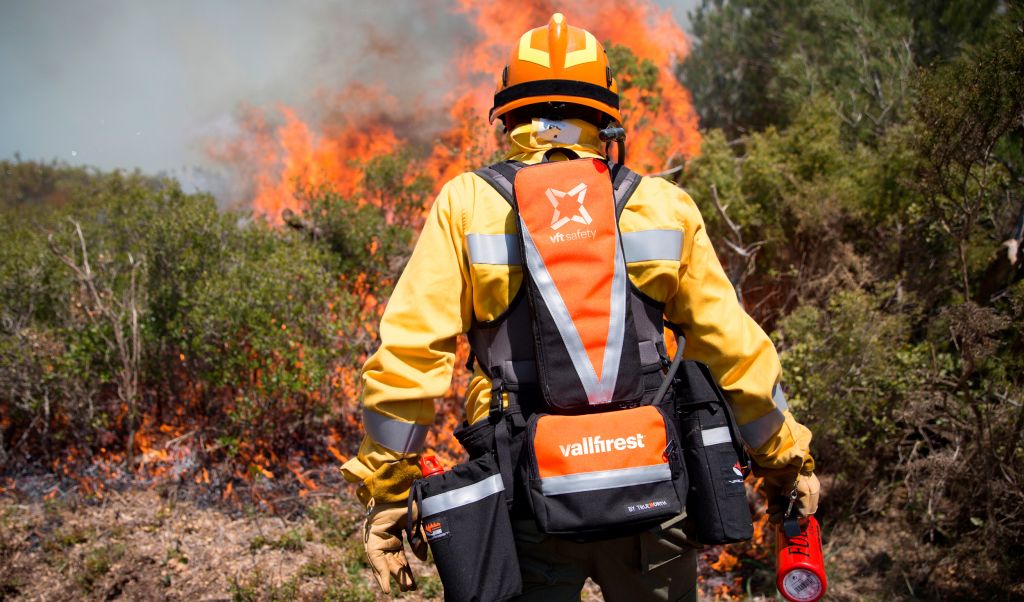 A.L: What other lines of work are you developing?
J.B:The study of patterns and research to develop lighter equipment. If you look at mountain sports such as climbing, or now running, the manufacturers of equipment are considering every gram. They study every gram in the shoes, they study every gram in the harness, they study every gram in the carabiners. We are in the worst conditions of temperature, visibility, environment and overall situation. We have to study every gram. When we made our Xtreme Shelter fire blanket we dropped a kilo compared to the American(americana). Weight is an obsession for us. Ergonomics, weight and efficiency are our design bases.
A.L: One thing that is appreciated about the Xtreme Pack is the breathable harness material.
J.B:We ended up making this backpack with Truenorth because it has to endure a lot. Ergonomic pattern comes from a Salomon running gear. We are constantly investigating sports, industrial, military sectors, including mining, testing new materials and devices with which to improve the equipment we offer to wildland firefighters. We invest a lot in research and development. We constantly ask ourselves questions. How can it be that we get off a helicopter, pluck a branch and use it as a fire swatter?
A.L: Well, it is the most common fire swatter
J.B: How is it possible that we don't have a professional fire swatter? Like the Alaska fire swatter, which allows you to take advantage of physical work because it is designed with a flexible handle that causes a whip effect. Those kinds of questions are the ones we don't ask. And then we sit down and develop a useful product that works in many countries and allows efficient work while ensuring safety.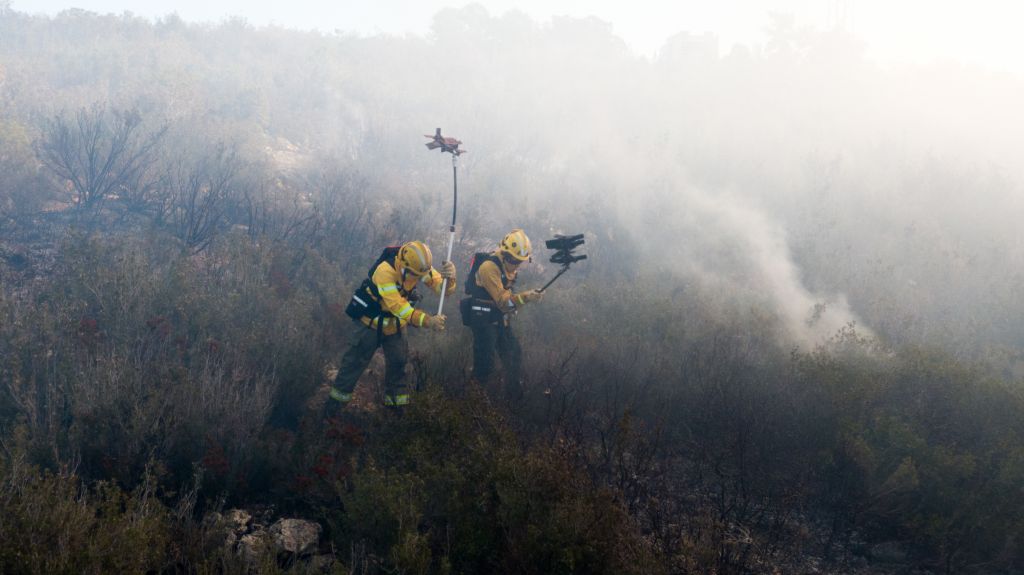 A.L: Master fire, webinars with the Pau Costa foundation, helicopfire, TREX ... whenever there is a training or pedagogical activity, it is sponsored or done in collaboration with Vallfirest. Why this commitment?
J.B: For us, training is the mainstay. We sell in 50 countries. With very different levels of training. How am I going to sell a drip torch in an area where there are no widening burns and there is no technical fire? How am I going to sell a manual tool if they don't know how to create lines of defense?That is why I have brought experts to certain countries to obtain this training. So once they know the alphabet and know how to read, they understand how useful our products are and what they need to work.
A.L: You are in the air and you are on the ground. You have developed the LEO system. Where does it come from?
J.B: The Leo-System is an original idea of Luís Álvarez, a wildland fire pilot who has worked for more than twenty-five years in the sector and who had a visionary idea. He approached Vallfirest (just as professionals from other countries are doing now) and explained the need for innovation that exists in the extinction with aerial means. He told me "We are throwing buckets of water from the sky and we cannot continue like this".
Before there were motor pumps, lances, hoses ... there were aluminum buckets where it was written "fire". And when there was a fire, they called the fire department and used them. We are doing the same with helicopters worth 2, 3, 5 and 20 million euros. Can we give a pilot a pump, a nozzle and a foam system to put the amount of water and the amount of foam needed? Yes. That's Leo-System, a new generation of extinguishing devices for helicopters, the way to efficiency, precision, greater safety and water saving in the extinction of wildland fires. It is a leap that will revolutionize the sector.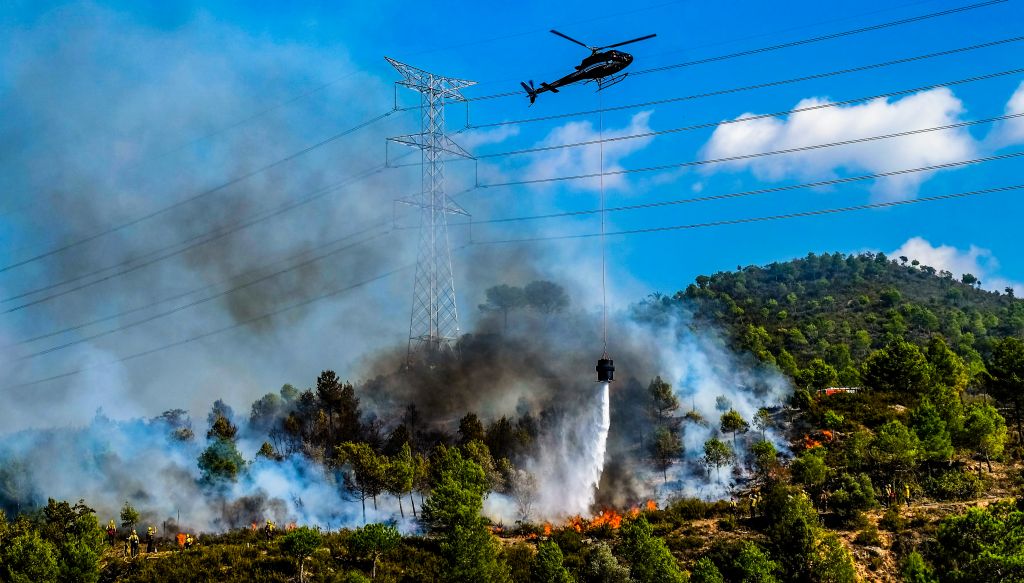 A.L: Is virtual reality one of your lines in development? For example, have you thought about whether the Dronster, in the future, will be able to be managed in a different way from a much more further distance and safe space?
J.B: In the design phases of a robotics product, there is an initial stage of requirements planning. This first step of forecasting features is very important: you have to know if you want it to have a remote control, an internal computer that can manage cameras, a weather station and position management; a software so that you can tell it where it has to go and return… If you take all this into account in this first design phase, you will equip the machine with the necessary intelligence so that in the future it can get where you want. Dronster and Leo are already designed with this line.
A.L: The importance of respiratory protection is beginning to be discussed in our field. Is it our weekest link?
J.B: We have detected that the sector is not taking the necessary measures to protect the respiratory health of the firefighters. There is a real protection problem at the monoxide level, at the particle level and above all a very serious problem at the level of direct exposure to burns and poisonings. Our range of respiratory protection equipment ranges from the use of disposable FFP3 filters to the Xtreme line; more complex solutions that work using combined filters or chemical oxygen devices, closed circuit, for situations of entrapment or extreme conditions in which the air becomes unbreathable (oxygen deficiency is greater than 17%).
A.L: How has the situation of COVID-19 affected you?
J.B: We have adapted and reinvented ourselves to be able to supply emergency teams with the necessary tools to fight against COVID-19. We continue to serve the military, firefighters, civil protection ... in Spain and in Latin America. Office staff remain operational in a telework environment and production staff from our headquarters, taking all necessary precautions. Our mission is to protect those who protect us, offer solutions so that they can work as efficiently as possible in safe conditions.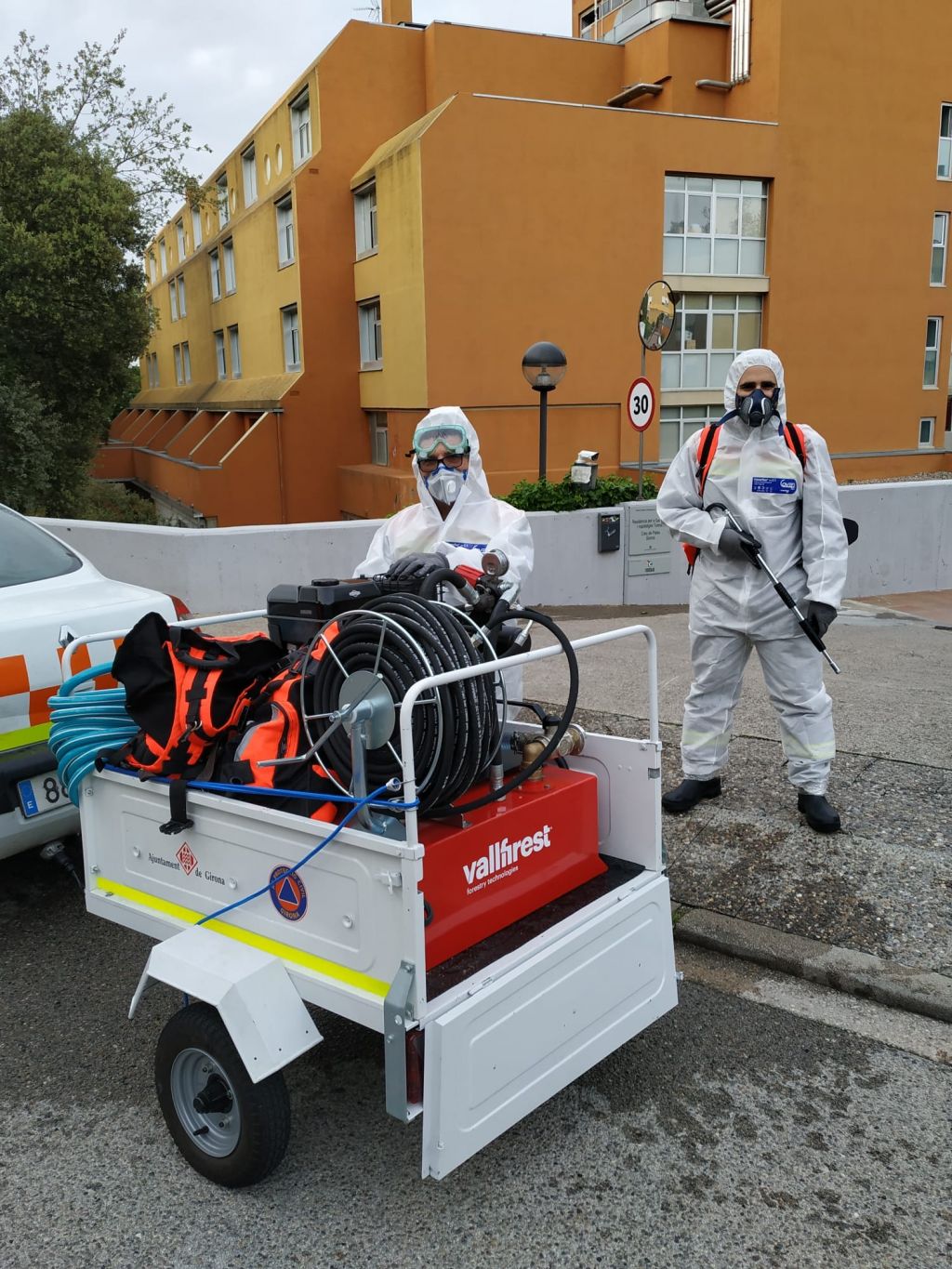 Don't miss this and other great interviews on the Extremadura Fire YouTube channel
You can see the full interview here: